When it comes to deciding what content to put into your website it helps to consider the KIO content model. This way of thinking about content groups all content into three buckets; Knowledge, Information and Offer.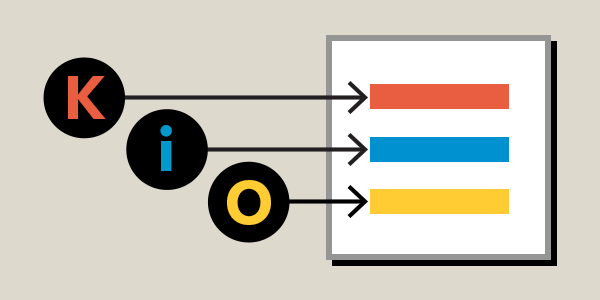 This is the fifth in a series of eight posts inspired by our eBook The Complete Cause Driven Website. Links to the other posts will be included at the bottom of the page as they're published. You can download the book for free and it's full of many more useful insights in creating a highly effective website for a cause.
Knowledge – educates people about your cause and sector (e.g. Blog, News, Resources, Learn)
Information – gives people insights into your organisation (e.g. About Us, History, Values, Contact)
Offer – the things you do for or with people (e.g. Workshops, Campaigns, Services, Membership, Products)
To further your cause you ultimately want people to engage with your offer. You want them to become a member, donate, buy your products or use your services. So it's important that people can easily find this content and take that step. Unfortunately not everyone is ready to do that when they first visit your website.
The buyer's journey is a concept that is used a lot in sales and marketing. It describes a journey of awareness that people take from not knowing they have a need, through discovering the need and how to satisfy it, then choosing a product and purchasing to fulfil that need. Marketers aim to engage people at each stage of the buyers journey and to help them further down that path.
When considering how people come to engage with a cause, we use a similar journey. People learn about a cause or issue, perhaps through personal experience, impact on a loved one or their community. They educate themselves more about the issues and then are motivated to take some action.
Not everyone who visits your cause website is right at the start of that journey. Some are ready to take action. Some are quite aware of the cause and deciding which organisation they should support. Some have very limited knowledge about the cause but are open to learning more.
People who have limited or no understanding of your cause and sector need Knowledge. You need to educate them as to why your mission is so important, the subtleties of the cause, who you're helping and the difference that their support will make.
People who do understand your cause and the importance of the work you're doing need Information about you. They want to know whether they should align with you and invest their time and money with you. They want to see that you have similar values to them, that you're a well run, reliable and trustworthy organisation.
Consider your website. Does your content speak to people at each point on the journey? Does the design of your website encourage people to find their way from Knowledge to Information to your Offer? Don't assume everyone is completely clued up. Don't underestimate the value of Knowledge and Information on your website.
The Complete Cause Driven Website blog series
INTRODUCTION – The Pyramid Approach
BRAND – Know yourself and powerfully communicate your purpose and values
STRATEGY – Align your website with your business goals, approach your site with a long term plan
EXPERIENCE – Understand what your community want and help them achieve it
CONTENT – Communicate effectively with all your audiences
INTERFACE – Build a site that encourages action
IMPROVEMENT – Regularly make your site more efficient and effective
PLATFORM – Ensure that your website has a foundation for success