The Futurist
PERMA – About to be set in state
20 February 2014
What is positive psychology, and how can it be applied to solve problems facing individuals, communities and nations? Our Creative Director Amy Milhinch attended a presentation by former SA Thinker-in-Residence and positive psych pioneer Prof. Martin Seligman to find out.
Our state and capital city has new tags being stuck to it – National Geographic's documentary 'World Smart Cities' (which I've yet to see) for example. 'South Australia, the Wellbeing State' is another. How real are these tags? Or is it all hot air being bandied on the pivot of an upcoming election?
Having seen Professor Seligman speak, I am unequivocally convinced that application of his theories and use of his tools is save-the-world stuff.
Despite his focus on positive psychology, Professor Martin Seligman struck me as a gruff old thing. Don't get me wrong – he's an irreverent but accessible man with a sense of humour. But he wasn't someone you'd immediately identify as a positivity expert, due to the grey suit convention.
Seligman is an academic through and through, and his theories are about evidence-based measurement and improvement of wellbeing and happiness, not abstract concepts of positivity. Measurement is the tangible that makes wellbeing real, hence the trust in taking on his thinking and applying tools in areas of our society like schools, Governments and the community.
Taking the stage at the redeveloped Adelaide Oval, Seligman took us through his approach to positive psychology, notably the PERMA criteria for measuring happiness.
PERMA refers to five key elements of wellbeing and resilience, namely:
Positive emotion
Individual experiences of awe, joy, wonder, happiness, gratitude and contentment that build to change ways of thinking and improve state of mind.
Engagement
A state of being challenged, and having the tools to rise to that challenge. The ideal of engagement is a state known as "flow", a place where concentration is intense, productivity is high and self-consciousness evaporates.
Relationships
Positive, constructive and productive connections between individuals and their families, communities, workplaces, institutions.
Meaning
A sense of purpose, or working toward something higher than oneself.
Accomplishment
Achieving goals, whether real or fabricated, through the application of determination and self-discipline.
There is much to explore with the integration of PERMA. We at FF will give our people the VIA Survey of Character Strengths www.authentichappiness.sas.upenn.edu to try and activate our top five strengths to make doing things we don't enjoy more enjoyable.
I don't like attending internal meetings, but as Seligman suggests, perhaps I might like to go to my internal meetings through the filter of what I enjoy most as identified by the outcomes of this survey.
Perma
I suppose now I'll need to be creative with how I integrate these strengths to these grumpy ol' meetings. Bring a bunch of flowers. Stick a poster of a sunset on the wall? OK, I'll think harder.
As we are a company of innovation, we are very interested in seeing how the 'Wellbeing State' mantle will be taken up in different sectors of the community, and will continue to track how this unfolds. Are there opportunities for us to help bring it into being? Can we build attitude apps to integrate into people's lives? Is there a way in social media that we can help users keep PERMA front of mind and create resilience within this space? I find Facebook a hard place – I imagine others do too. PERMA might just soften it up.
It's excellent Positive Psychology is having a dialogue here. I am very keen to follow its evolution and hope to be a part of this thinking that can make authentic and purposeful people of us all.
Photo by Kate Pardey from TEDxAdelaide City2.0
Our free eBook The complete cause driven website describes 28 features of a high performing website. To download this eBook, click the button!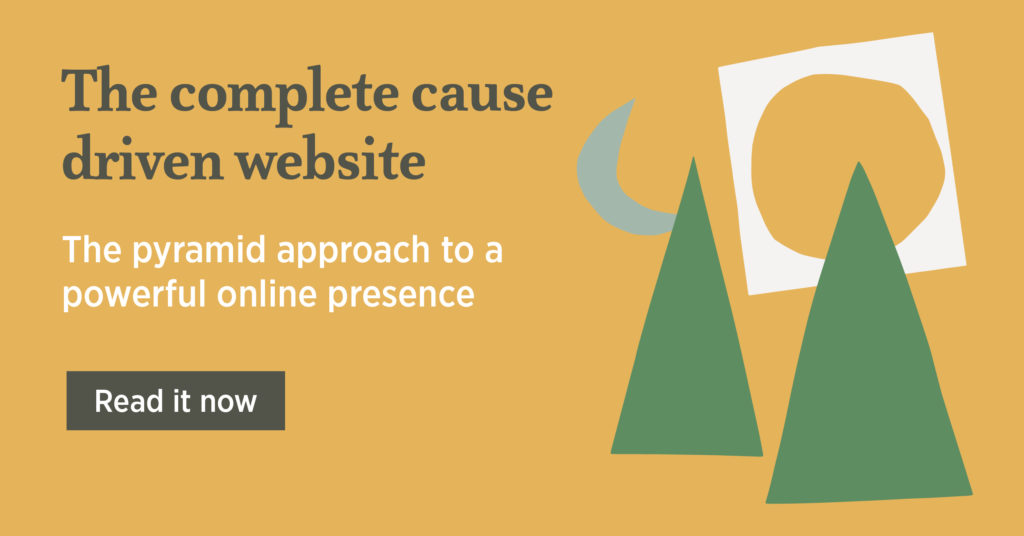 Topics: Events