The Futurist
Introducing the Digital Capability Reference Model
15 September 2014
I first came across Internet technology in the mid-1990s as my team – Interactive marketing – started to see the potential of the Internet as an unprecedentedly effective channel for interactive marketing and even sales. It was much more direct in response than any other direct marketing channel. These days we are inundated with digital technologies. If we can apply some of those digital trends to all operational areas, I see significant potential for further sell-side improvements.
It is commonly acknowledged that social, mobile and cloud are among the most outstanding elements of the contemporary digital era. If you have a closer look at those three elements then you'll notice that they are very closely related from a business perspective.
Put simply, those three things are all related to 'digitised user interactions'. Social means users interact with each other for socialisation, mobile means users interact over mobile devices, and cloud mean dynamic provisioning of business services to support unpredictable, massive transaction processing involving the unstructured data those interactions generate.
Why is this important for business?
In the past we could only best-guess customer behaviour through surveys or focus groups or at best only analyse behaviours of customers who did visit. Now using Social, Mobile and Cloud, we can observe and even measure previously unseen customer's private reactions to brands through 'digitised interactions' even if they never visit or shop. Customers are revealing themselves to businesses through their digitised interactions. Marketing & sales divisions should be most excited about digital of all business areas. The question is, are you ready to make the most of these new digital opportunities?
The Digital Capability Reference Model can help you answer that question.
Digital Capability Reference Model (DCRM) for marketing & sales
DCRM is a reference model that is used to diagnose and design business capabilities required for digital business with a heavy focus on the operational areas of marketing and sales. It is the foundation of the Freerange Digital Benchmark. There are several noticeable features in the model that you should be interested in.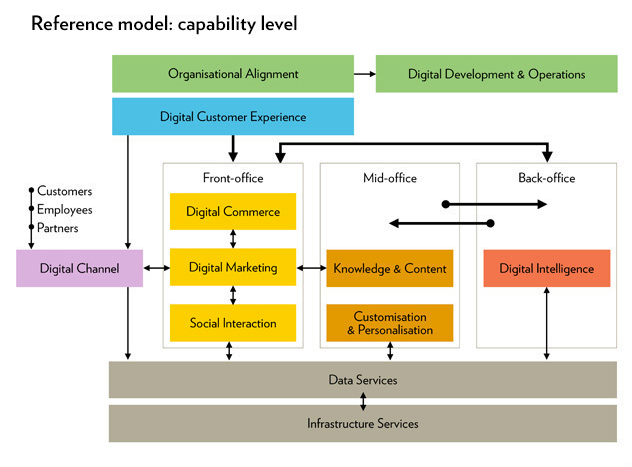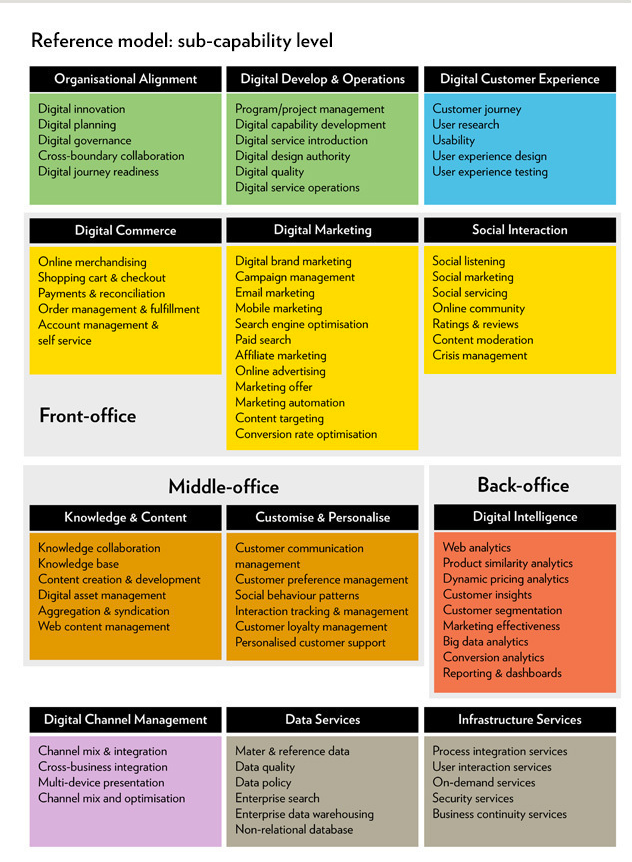 1. DCRM is based on the global best practices for digital business
DCRM consists of 12 capabilities and 76 sub-capability components that constitute global best practice. You can benchmark digital capabilities of your organisation against best practice in two ways. Firstly, you can check if your digital landscape covers all the digital capabilities and sub-capabilities contained in the reference model. Secondly, you can compare your digital practice with the leading practices described in each sub-capability.
2. DCRM consists of front-office, mid-office and back-office in order to better respond to customers
The front-office directly interacts with customers through digital channels to market and sell products and services. The back-office supports the front-office by providing information needed to interact with customers. In architecture terms back-office processes are not necessarily tightly integrated with front-office processes and chances are that the front-office is not responsive enough.
This is where the mid-office concept comes in. Mid-office in DCRM is responsible for preparing customised content based on analytics insights provided by the back-office and then feeding the customised content to the front-office on demand. Mid-office is tightly integrated with front-office operations so that front-office staff are well equipped to interact with and respond to customers in order to effectively socialise with customers and effectively market and sell to them.
3. Most digital capabilities in the DCRM are aligned with customer journeys toward purchasing
Thanks to digitised customer interactions we can now objectively observe customer behaviour and can interact to effectively influence them at multiple touch-points during their journeys toward purchasing. This is why managing the customer experience journeys is becoming more critical in the digital age than ever before. All channels, front-office, mid-office and back-office should be aligned with strategically developed customer experience journeys. This concept is core to the formation of the DCRM.
4. The front-office is structured to progress interactions with customers from socialisation through marketing to sales.
You can't just sell to everyone you encounter online. You need to start by building a relationship through socialisation as per the customer journey map. The Social Interaction capability of the front-office can target a broader audience than customer segments from a marketing plan in order to widely build brand awareness, interest and preference as well as to create word of mouth through loyal brand supporters. The relationship evolves beyond socialisation to the point where you can pitch marketing offers and further to another level where you lead them to a purchasing transaction. DCRM fully supports this concept of managing conversions in the marketing funnel.
5. The DCRM is relevant to many different marketing approaches
Marketing practices typically consist of planning, execution and performance evaluation processes. Every business, however, has a different mixture of marketing processes. The holistic and comprehensive nature of the reference model makes it relevant to any marketing processes that conform to the Plan-Do-See marketing cycle.
Topics: Marketing