The SAHMRI is an imposing sight on Adelaide's skyline. 15,000 triangular windows wrap this world-class medical research precinct, where 600 outstanding researchers work together in the search for better treatments and cures for some of the world's most challenging diseases.
Like any research organisation, fundraising is a necessity and an ongoing challenge for SAHMRI. They came to us with the idea of selling what they've got most of: their windows. Not literally of course, they only just finished building the place.
We recognised that there was a great opportunity for this project to become something very special. The work that SAHMRI does is close to peoples hearts. SAHMRI have seven research themes that include Cancer, Healthy Mothers Babies & Children, Aboriginal Health and Heart Health. Every one of use have an emotional connection with at least one theme. Rather than just buy a window and stick your own name on it, for $100 people can dedicate a window to the memory, or in recognition, of a loved one, family member, friend or colleague who has inspired them. They can then choose what research theme their donation should contribute towards.
Exploring the building and reading the dedications that people have left is poignant, emotional and inspiring. We're very proud to continue supporting SAHMRI in their vital work that contributes so much to society.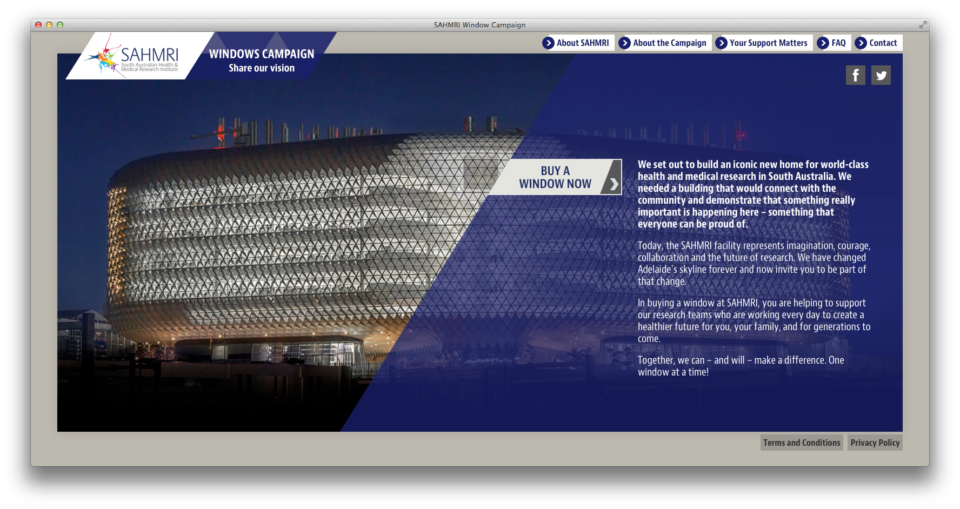 Step 1: Nominate a window view. This is the eastern view.

Step 2: This is the western view.

Step 3: The blue diamond indicates a bought window.

Step 4: Click on a diamond to read a dedication.

Step 5: Buy your own window.