The field of reproductive medicine is emotionally-charged, profoundly affecting and a constantly changing scientific landscape. The standard clinical approach is often inadequate when considering the challenges women, couples and families face in having a child.
Dr. Gavin Sacks is a Sydney-based IVF specialist who views the journey to conception as an emotional and physical whole, not just a set of symptoms to be cured. Gavin's practice takes into account cultural sensitivities, alternative medicines and cutting-edge therapies to give his patients the best chance of success, regardless of what other doctors may think.
Gavin needed a website that reflected his holistic approach. We created a strong visual language that does not rely on traditional indicators of motherhood or family which can easily alienate. The site's navigation reflects the key concerns for people seeking help, and works to direct them to the most relevant content while also reassuring them that there is always hope.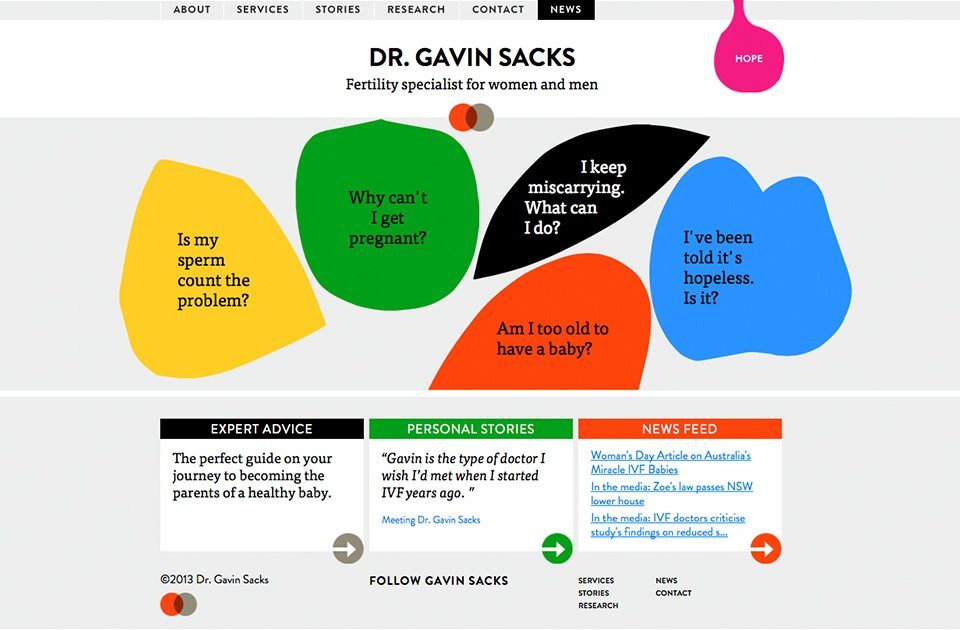 Reproductive science and medicine is a highly personal and emotional space. In creating a new website for me and my practice, Freerange Future demonstrated considerable sensitivity and an innovative design approach. They took the time to understand me, my priorities and my values, and used that to create a brilliant looking and functioning site that stands apart from other specialists in the field.

Dr. Gavin Sacks