Adelaide Film Festival & Adelaide Festival of Ideas
The 2013 Adelaide Film Festival and Adelaide Festival of Ideas represent a shift in direction for the events that has created a new hive of activity in October. These developments demanded a new communication and creative strategy to align the two brands while retaining their distinct flavours.
The visual identities for the two festivals were crafted by our office mates, Nation and the AFF has a ticketing management system contracted from a Melbourne-based provider. The AFF website needed to bring together these elements into a logical, engaging portal that authentically reflected the identities created by other firms.
Working within a limited budget and a tight timeframe, we created two sites that took existing concepts and technical demands and synthesised something clean, functional and efficient for staff and audiences alike.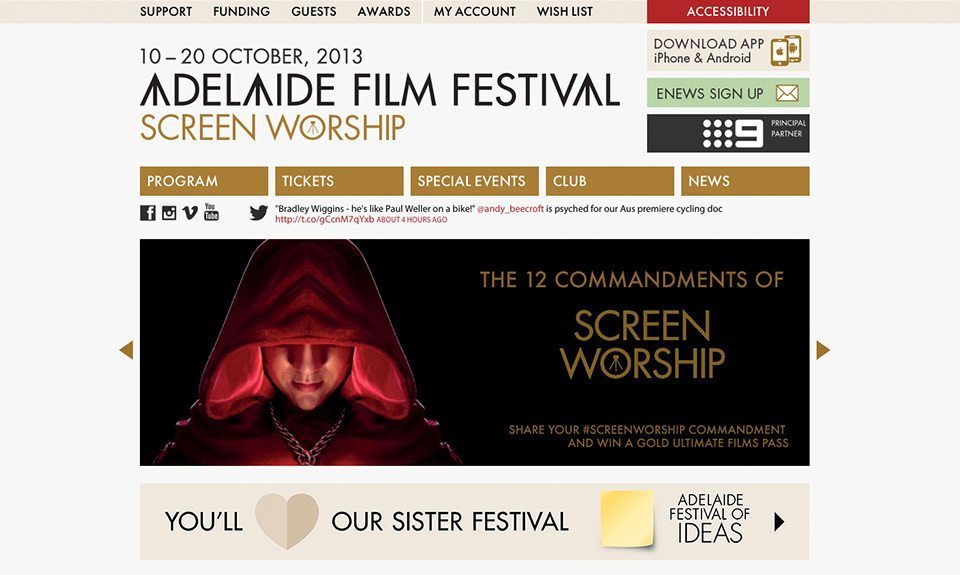 We've only been live for 30 hours or so and have already received a huge amount of positive feedback for our shiny new website. Our favourite via Twitter: 'Va va voom... That's one hot looking website guys' 
-@adelaide_fringe

Lucy Markey – Marketing Manager, Adelaide Film Festival